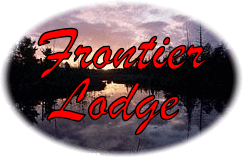 NORWAY OUTPOST INC.
---
CREATE A MEMORY AT FRONTIER LODGE
LOCATION
SCENIC TRAVEL ROUTE
FALL COLOUR AND WILDERNESS COUNTRY
How to get to Frontier Lodge from the bridge in the Soo.
East 75 miles Rt. 17 to Iron Bridge
then North East on Rt. 546 to the end of the Hwy. - 49 miles.
From Sudbury Rt. 17 West to 108 to 639 to 546 East.
Turn right 8 miles to end of Hwy.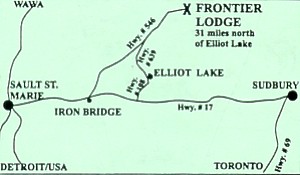 We are located at the end of Hwy. No. 546
50 miles north of Iron Bridge on Hwy. No. 17 or 31 miles north - east of Elliot Lake
Niagara Falls to Sudbury - 316 miles
Sudbury to Frontier Lodge - 131 miles
Detroit to Sault Ste. Marie - 339 miles
Sault Ste. Marie to Frontier Lodge - 135 miles
---
FISHING - RATES - MAIN PAGE - SNOWMOBILING
BEAR HUNTING - MOOSE & GROUSE HUNTING

Want some more information ?
Just e-mail us at: frontierbetty@hotmail.com

---


YOUR HOST
Ken Luciani
P.O. Box 278
Elliot Lake, Ontario
P5A 2J7
(705) 848-2809
1-888-848-2809
frontierbetty@hotmail.com
These pages designed and maintained for maximum traffic by